Getting Started with Refollow (1/3)
Understanding the terminology
---
One of the biggest hurdles getting familiar with a new service is understanding its terminology. In an effort to limit that challenge, we've put together this three part series about getting started with Refollow. This first part will deal with understanding Refollow's terminology and structure so that you can focus on managing your Twitter profiles.
Account: Your account is the name, email address, and payment information outlined in your account settings. This is what binds all your linked Twitter profiles together.
Profiles: These are linked Twitter accounts you want to manage through Refollow. These profiles will show up on the home screen when you login to Refollow.

Campaigns: These are the vehicles in which you target and find people you want to follow and have follow you. Campaigns are a combination of search terms, filters, and search results. Campaigns are automatically saved after the first search is run. This way you can come back and keep following people day after day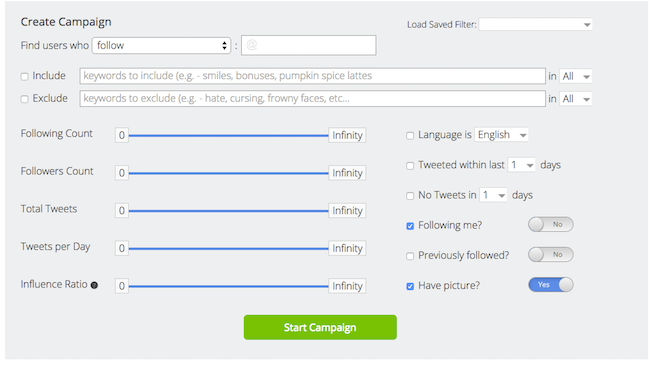 Influence Ratio: This is a metric that we have found time and time again to be very valuable when targeting influencers on Twitter. Simply, this ratio is someone's Follower / Following ratio. Normally, people who are high influencers have an Influence Ratio of 2.0 or greater.
Queue: To build your following, you are going to follow and unfollow a lot of people. To make this process rapid-fire fast, we've added a Queue feature. Once you follow or unfollow someone, that action is put into the Queue. As soon as an action enters the Queue Refollow does the rest of the work. Refollow users find they can quickly unfollow and follow people using the Queue feature, without being slowed down by loadtime. You will know the Queue is running when the icon is rotating. When the process is complete, the icon will stop spinning.

Daily Max Follow/Unfollow Limit: This limit is set by your subscription level. Users who have a Pro subscription will be able to follow and unfollow 250 people per day. Users with a Business Account will be able to follow and unfollow 500 people per day. Enterprise users will be able to follow and unfollow the Twitter max of 1000 people per day.
We'll continue posting new resources every week. If you'd like to receive email updates about new content, sign up for our newsletter in the header.